Courses of Study

Massage Therapy Program
This five-month, 700 hour program is designed to address all modes of learning...audio, visual and kinesthetic. The class time is scheduled from Monday through Friday, with the morning class in session from 9:00 am to 11:00 am, and Massage and Bodywork in session from 12:00 pm to 4:00 pm. Supervised Clinic practicum will be scheduled for after class Tuesday and Thursday evenings.
Please be aware that the course offerings and hours listed below are estimates based on the current program at the time of this printing and are subject to change.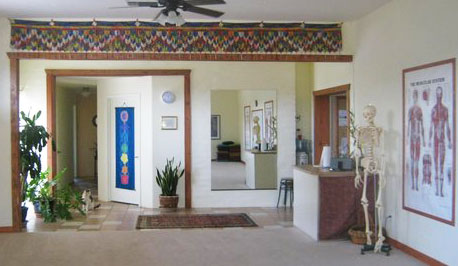 Massage 350 Hours
(40 hours of pathology, 25 hours of kinesiology and 10 hours of business are included in the following classes)

Swedish Massage 60 hours
In this modality, students will learn the basic theory and strokes of Swedish Massage, which promote relaxation and the free flow of fluids through the circulatory system. We will also be focusing on basic body mechanics, body draping and learning to communicate and touch in a safe way.
Myofascial Techniques 40 hours
This class will be an introduction to working with the myofascial system. We will cultivate the skills for greater presence and sensitivity in working with and affecting the connective tissue or fascia of the body.
Shiatsu 30 hours
This Japanese form of bodywork is rooted in traditional Chinese medicine and works with balancing the vital flow of energy (Ki) in the body. Through the application of pressure on specific energy points (Tsubos) along the meridians of the body, we can influence and improve the body's energetic state. Students will become familiar with basic oriental theory, the 12 meridians, the five elements and many of the Tsubos that promote healing by reinstating the free flow of energy.
Polarity 20 hours
Polarity Therapy is a healing art developed by Dr. Randolph Stone, which works with balancing the flow of life energy in the human body. This work includes an exploration into the five element and seven chakra theories, what Dr. Stone referred to as our "wireless anatomy." Within the class, the students will learn basic theory and techniques for working with this life pulse, as well as a look into the polarity diet, yoga postures, awareness practices and communication skills.
Connective Tissue Therapy 60 hours
In this portion of the program, students will learn very specific techniques for working with the muscles and their fascial components. This work is very satisfying to receive, and very effective for freeing up areas of chronic holding and congestion, and facilitating greater function, vitality and freedom in the body/mind. The art of body reading will be taught and the students understanding of kinesiology will deepen throughout this class. This is a very good introduction to Structural Integration.
Introduction to Cranial Sacral Therapy 20 hours
This course is a hands on, gentle touch approach to the deepest level of the physiology of the human being. We work with the membranes and fluid that surround and protect the brain and spinal cord. We will cultivate the skills of deep listening through touch and awareness. Through this type of contact the cranial sacral system is a largely self-corrective mechanism that can affect any number of sensory, motor or neurological situations.
Neuromuscular Therapy (NMT) 40 hours
NMT uses a combination approach to dealing with painful trigger points in the body, addressing both the physical and energetic components of soft tissue dysfunction. This deep tissue therapy does not require "painful" pressure in order to achieve deep therapeutic values.
Ortho-Bionomy® 8 hours
Ortho-Bionomy is a gentle, non-invasive form of body therapy which is highly effective in working with stress, pain, injuries and problems associated with postural and energetic imbalances. Ortho-Bionomy is a whole person approach which provides us with an opportunity to replace habit with choic, and to create ease, vitality and well-being in every aspect of our lives. Ortho-Bionomy was developed by the British Osteopath Arthur L. Pauls, and is based on Osteopathy, Martial Arts, Homeopathy and Esoteric Healing.
Integrative Massage 48 hours
Within this class, students will have the opportunity to integrate all of the skills gained throughout the program. We will be focusing on the interconnectedness of the cranial sacral system, the myfascial system and the energy systems of the body. There will be time for working creatively with each other and receiving individual feedback from instructors. Chair Massage and Hot Stones will also be presented within this class.
Injury Assessment and Intro to Active Isolated Stretching 24 hours
Injury assessment is designed to introduce the participants to the techniques and concepts used in identifying soft tissue injuries. Here we will have a chance to actually identify and treat causes of dysfunction to the musculoskeletal system.

Active Isolated Stretching is a technique pioneered by Aaron Mattes. Using precise controlled movements, and simple breathing techniques, a massage therapist is able to facilitate dramatic changes in the tensional base of the client. This simple elegant approach requires applying perfect assistance, and exactness of action, to effect one muscle at a time. This fun and highly interactive class will also sharpen your understanding of kinesiology while opening your body to greater range of personal expression.
Conjunctive Studies 192 Hours
Anatomy and Physiology 60 hours
Within this class, we will look into the basic structure and function of all the major systems of the body. We will be looking wholistically, seeing the interconnectedness of all the systems and focusing on what the implications are as they apply to bodywork. We have found this course to be very empowering. We live in these bodies and the more knowledgable we are in regard to how the body works, the better equipped we are to make choices that support health.
Kinesiology 60 hours
Kinesiology is the study of muscles. In this class, students will learn the origin, insertion and action of all the major muscles of the body. Within the massage portion of the program, the students' understanding of the musculature will deepen as they learn techniques for working very specifically with these muscles.
Hydrotherapy 8 hours
In this portion of the program, students will learn the theories and have the opportunity to practice hydrotherapy treatments that can easily be integrated into their massage practice. The therapeutic use of water has been dated back to ancient times and is practiced today by health care practitioners in many fields.
The remainder of the Conjunctive Studies courses consists of working with communication skills, ethics, awareness and movement, along with an introduction to homeopathy and herbalogy and nutrition. First aid andCPR education will also be included in this portion of the program.
Communication Skills and Ethics 26 hours
Business and Law 6 hours
Cardiopulmonary Resuscitation, First Aid, 8 hours
Introduction to Homeopathy, 4 hours
Introduction to Herbalogy 4 hours
Movement 16 hours

Additional Requirements 158 Hours

Orientation 18 hours
The first three days of class will be orientation. This will be an opportunity for students to begin to get comfortable with themselves and each other. We will be introducing basic body mechanics, awareness practices, movement, personal hygiene and simple exercises to get students used to touching and being touched in a safe way.

Clinical Practicum 60 hours
During the course of the program, students will be required to do 30 supervised practice massages. The supervised student clinic will be set up for Mon and Wed evenings at 5:00 pm. Students will also be required to give one instructor massage before graduating. This will serve as an opportunity for feedback and a personal tutorial.

Personal Journal 50 hours
Students will be required to keep a personal journal during the months they are in school. We have found journaling to be an effective tool for self-reflection and gaining greater self-awareness. There will be instruction in journal writing, and students will be required to write a brief summary of what was gained from the experience.
Review and Graduation 30 hours

Throughout the 5 month course, we also integrate 5 fabulous hikes throughout the semester!!
Requirements for Graduation
To be eligible for graduation, a student must have:
90% attendance, with work for missed days made up;
a cumulative grade of 'C' or better on written exams;
completion of CPR and First Aid education offered by the school, or proof of current certification;
completion of massage practicum;
tuition paid in full.
---
Advanced Programs

Awareness Oriented Structural Integration 300 Hours
Deepen your understanding and effectiveness as a massage therapist. This awareness oriented training is designed to help one experience greater clarity and well being, while improving the structure and the function of the body/mind. This program has been developed as both a professional skills training and a journey in personal growth.
The objective of the course is to prepare therapists in the theory, techniques and practice of the ten sessions of Structural Integration. Join us as we look deeply into anatomy and physiology, kinesiology, touch and human potential.
Upon successful completion of the class-work and supervised clinic practicum, a certificate in Structural Integration will be granted.
Requirements
100% attendance
classroom participation
completion of clinic practicum
tuition paid in full
Prerequisites
500 hours of massage therapy training or similar study/experience.
Dates and Tuition
"Health constitutes reaching the life current within and reestablishing the free flow of its energy."
~ Dr. Randolf Stone